SAN FERNANDO, Pampanga – Department of Tourism (DOT) Secretary Bernadette Romulo–Puyat is optimistic that Filipino cuisine is poised to take the international food scene by storm as the agency aggressively promotes food tourism as one of its main product portfolios.

The DOT Chief pointed out that a number of FilAm chefs have made their mark serving Filipino dishes in their restaurants and reaping awards and accolades. She said that the growing popularity of Filipino food culture inspired this chef food trip project.

"Everybody keeps saying that Filipino food is the next big thing; but I think, it is now 'THE Thing', with Filipino–descent culinary geniuses making names of their own abroad," said Sec. Puyat when interviewed during the special luncheon with the visiting FilAm Chefs at the 18th century Augusto Hizon Heritage House in San Fernando, Pampanga..

On DOT's invitation, US–based chefs are in the country to visit culinary destinations like Pampanga, Iloilo, Bacolod, Cebu and Davao including award-winning Filipino–Americans Chef Tom Cunanan (Best Chef in the Mid–Atlantic Category, Beards Awards 2019); Chef Grant "Lanai" Tabura (host of food show Cooking Hawaiian Style and winner of the Food Network's Food Truck Race); and Chef Charles Olalia (of Ma'am Sir and Ricebar restaurants in Los Angeles).

"I want upcoming local chefs and culinary students to realize that they need not cook foreign dishes just to make it big locally and in the world; you have the likes of Tom Cunanan, Lanai Tabura, and Charles Olalia who are proud of their own but are so successful abroad," added Sec. Puyat.

Chefs Cunanan and Tabura have been touring different culinary destinations in the Philippines since Sunday. They are currently in Pampanga meeting with the province's most respected heritage food advocates like Chef Claude Tayag, who hosted a curated Kapampangan degustation feast in his Bale Dutung, and doyenne of Pampangueño cuisines Atching Lilian Borromeo at her lovely home Kusina Matua.

"The objective is for the FilAm chefs to learn more about Filipino heirloom recipes, iconic delicacies, heritage dishes and ingredients so they can expand their food offerings in their respective restaurants as a way of promoting the unique Filipino culinary culture," stressed Sec. Puyat.

Tom Cunanan happily notes traveling all the way to the Philippines just to work side by side with some of the country's most respected culinary gems. "I traveled here precisely because I want to listen to all the stories they have about their own unique dishes, and I want to capture them for the rest of my life so I can pass them on to my children's children," the James Beard awardee remarked how he has been learning from this culinary journey.

Lanai claims of his many learnings during this technical visit saying, "As someone who doesn't cook that much, save for some collaborations I have, being with these prominent culinary figures from the Philippines is pretty amazing and I am learning a lot," the Emmy–award winning TV presenter, said excitedly about this opportunity to discover his food roots.

The initiative has also been designed to showcase world–renowned Filipino chefs at their respective restaurants in various areas and regions of the country.

Sec. Puyat added that while the DOT organizes media fam–trips regularly as part of tourism promotions efforts, this time the Department decided to invite opinion leaders, referring to the FilAm chefs, to visit the Philippines, to learn more about Filipino dishes and culinary destinations, so that they could expand their Filipino food offerings, and serve as ambassadors for Philippine food tourism.

"I want people to come here and taste the food not only in Metro Manila, because we have provinces where there are so many recipes they can taste. For example, we have lechon (roasted pig) in every province but it's done differently with different ingredients, and then we have different kinds of pancit (noodles), laing and chicken inasal," said Sec. Berna.

The FilAm chefs are now off to discover more unique Filipino cuisine in Iloilo (Nov 14), Bacolod (November 15–16), and Davao (November 18–19).

Photos: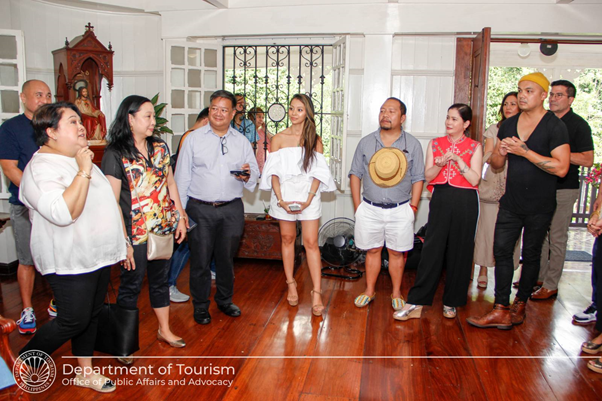 Tourism Secretary Bernadette Romulo–Puyat looks on as marketing communications expert Cathy Chon (CatchOn PR firm) glowingly introduces the visiting US–based Fil–Am chefs, Tom Cunanan and Lanai Tabura, to the members of the culturati, heritage food advocates and culinary bigwigs during the curated lunch feast held at the Hizon heritage home in San Fernando, Pampanga.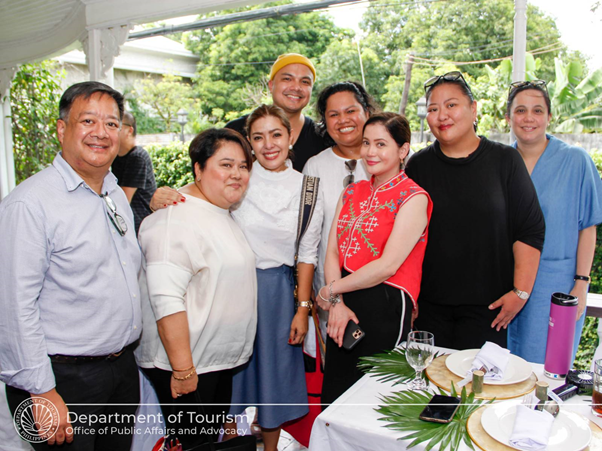 Tourism Secretary Bernadette Romulo–Puyat with celebrated Fil–Am chef Tom Cunanan, restaurateur Happy Ongpauco (middle) and media influencers.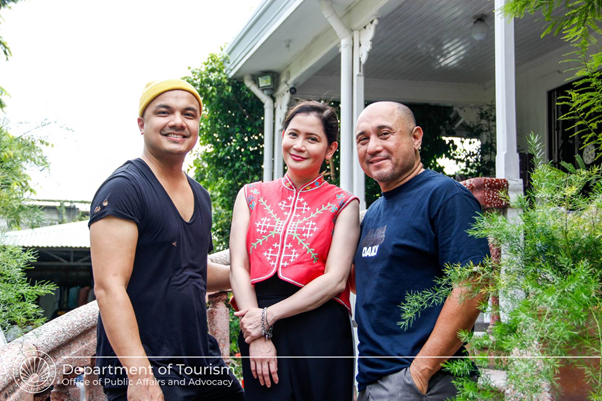 Tourism Secretary Bernadette Romulo–Puyat with two of the most celebrated US–based Fil–Am chefs Tom Cunanan (left) and Lanai Tabura (right) at the 18th century heritage home of Augusto Hizon in San Fernando, Pampanga.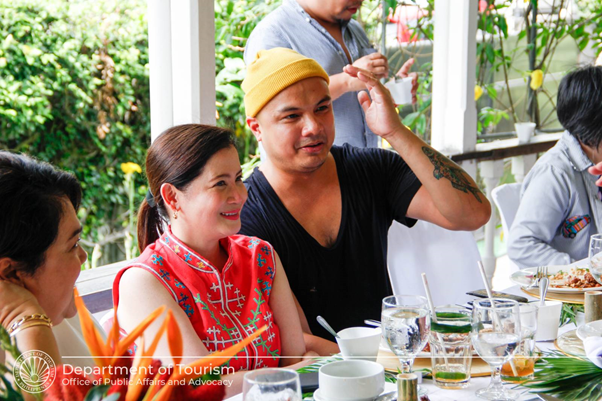 Tourism Secretary Bernadette Romulo–Puyat exchanges pleasantries with guests as Chef Tom Cunanan and communications expert Cathy Chon look on.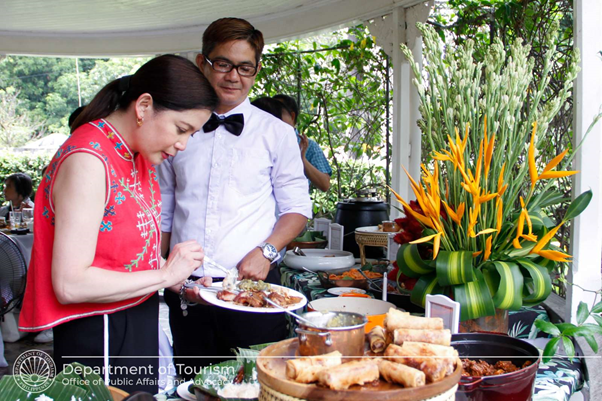 Tourism Secretary Bernadette Romulo–Puyat gets a taste of some of the heirloom recipes from the Hizons, Aguilars and Limjocos, three of Pampanga's oldest and most prominent heritage advocate–families.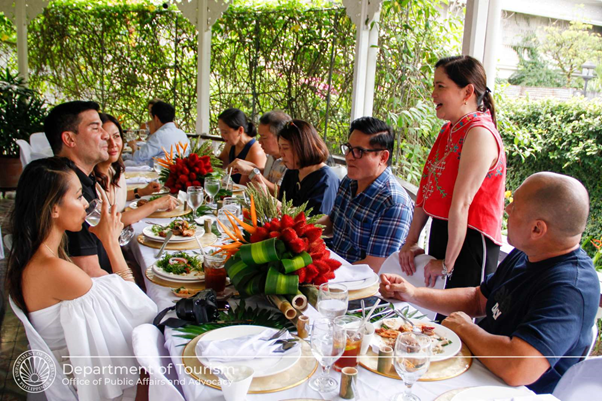 Tourism Secretary Bernadette Romulo–Puyat plays host to some of the invited guests that include media personalities like Edu Manzano and Rowel Santiago, among others.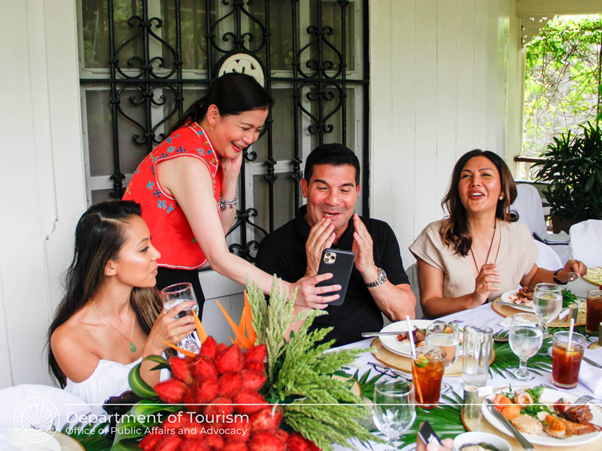 Tourism Secretary Bernadette Romulo–Puyat shares a light moment with media personality Edu Manzano.