Manila - The Department of Tourism (DOT) officially welcomed on Monday (25 January) Joy Nostalg Hotel & Suites Manila and Grand Hyatt Hotel as the first two recipients of the World Travel and Tourism Council (WTTC) Safe Travels Stamp issued through the DOT.

The WTTC Safe Travels Stamp is the world's first-ever global safety and hygiene stamp. It is a specially designed stamp, which will allow travelers to recognize governments and businesses around the world that have adopted health and hygiene globally-standardized protocols and experience 'Safe Travels'.

The Philippines, in September 2020, was named as the 100th country to receive the Stamp, after being assessed as having in place, health and safety guidelines (HSG) that are aligned with the WTTC's core requirements.

"Following this milestone, the DOT has taken the role as Safe Travel Ambassador, advocating the implementation of the Safe Travel protocols and the enrolment not only of tourism enterprises (TEs) but more importantly, of destinations that are compliant with said protocols. We enjoin more destinations and businesses to secure this seal of good housekeeping to better leverage our country as a safe tourism destination," DOT Secretary Bernadette Romulo-Puyat explained.

Aside from being promoted in the websites and social media platforms of the DOT and the Tourism Promotions Board (TPB), the recipients benefit from global exposure and the vast network of WTTC member organizations as well as brand awareness with the logos distinctly posted at the WTTC website.

"While our staycation hotels are highly qualified, having already passed the DOT HSGs on top of the rigid star-rating assessment, they still need to apply. As bearers of this Stamp, they carry the responsibility to sustain implementation of DOT HSGs and ensuring that these remain aligned with those of the WTTC," the tourism chief cautioned.

"Meanwhile, we will aggressively pursue our campaign to enlist the local destinations that have reopened so that when international travel restrictions begin to relax and with a successful vaccination program restoring global travel confidence, our country would be top- of-mind among the safest destinations in the world," the Secretary enthused.

DOT-accredited TEs and local destinations may send their letter of intent to the regional offices concerned, please see Directory at www.tourism.gov.ph/regional_offices.aspx.

PHOTOS: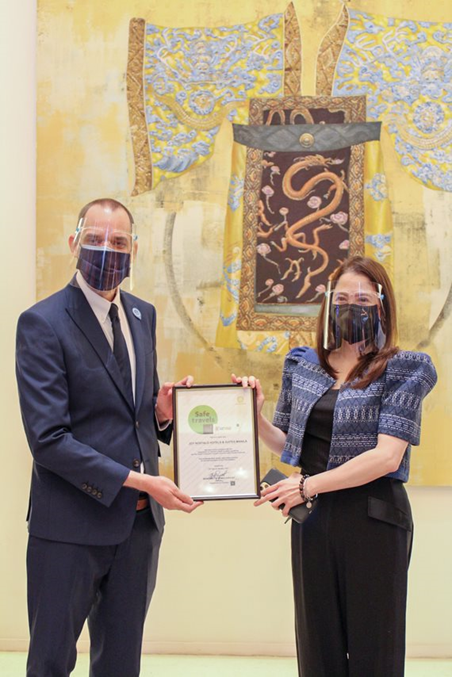 In simple rites, DOT Secretary Bernadette Romulo-Puyat (right) awards the WTTC Safe Travels Stamp Certificate to Joy Nostalg Hotel & Suites Manila General Manager Antoine Weinstein (left).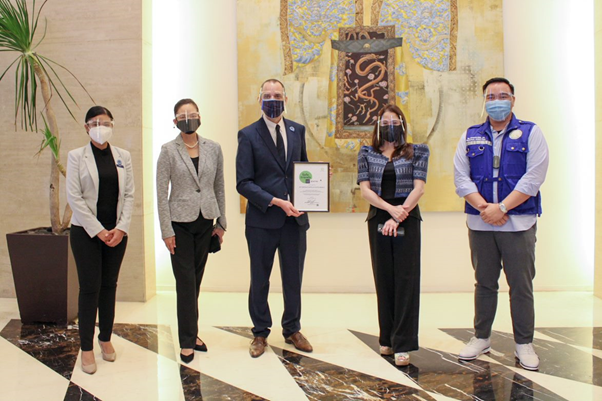 (L-R) Joy Nostalg Hotel & Suites Manila Quality Manager Abegail Nicolas, Director of Sales and Marketing Laurie Cardena and General Manager Antoine Weinstein, DOT Secretary Bernadette Romulo-Puyat and DOT National Capital Region (NCR) Director Woodrow Maquiling, Jr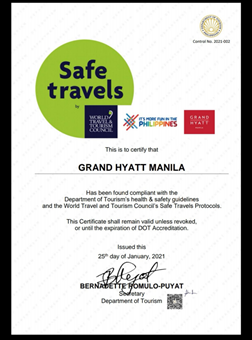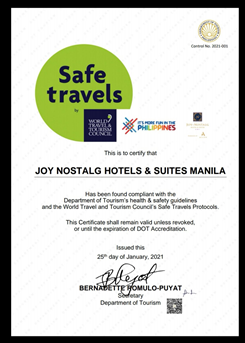 Safe Travel Stamp Certificates
###