The Department of Tourism (DOT) sets forth to satisfy holiday cravings for Filipino cuisine through its fourth installment of the KAIN NA! Food and Travel Festival happening from December 17 to 20, 2020.

"The past few months have been rough on the Filipino food community, but it has also pushed us to our limits to achieve greater things. For its first three legs held between September and November, KAIN NA! 2020 took the virtual space by storm in its celebration of Filipino food culture. As the holiday season approaches, with the year almost to a close, the DOT once again invites foodies to KAIN NA! Christmas Cravings, an exciting hybrid edition of the Food and Travel Festival," said Tourism Secretary Bernadette Romulo-Puyat.

For four days straight, KAIN NA! Christmas Cravings will feature a series of exciting virtual talks, tours, and demos through the Food Tourism Exchange and Food Tourism 101 sessions, while a physical Food Tourism Christmas Market will be mounted at Ayala Malls Solenad in Nuvali from December 18 to 20, featuring selling booths of proudly local food products from different regions of the country and a food truck featuring food creations of some of Central Luzon's most talented chefs.

To ensure safety of participants and visitors of the KAIN NA! on-site culinary exhibition, Puyat said that the Ayala Malls and DOT have undertaken steps to ensure that health and safety protocols are enforced throughout the festival duration, such as limiting the number of selling booths and venue capacity, installation of social distancing floor markers, and designation of entry and exit points to direct one-way foot traffic. These measures are also being undertaken through Ayala Malls' coordination with the concerned local government unit.

"I am very elated to see our on-site KAIN NA! exhibition finally return since the start of the COVID-19 pandemic. As with all of the DOT's initiatives in the slow but sure revival of the Philippine tourism industry, health and safety come first. We shall see to it that minimum health standards are maintained during the event. Likewise, we are soliciting the cooperation of all which will be vital for the activity's success," said the tourism chief.

Visitors of the KAIN NA! exhibition will be treated to a variety of quality and delectable food products of participating sellers including Alavar, Amira's Buco Tart Tagaytay, Cafe Amadeo, Calabarzon Farm Association, House of Negros + Creative Definitions, Magic Melt, Malagos Chocolate, My Little Oven by Simplicity, M&E Catering Services, Pasciolco Agri Ventures, Pink Ladies, QueenB Apiaries, QuePATTA, Suman Munti, and Sweets for Ferann.

KAIN NA's Food Tourism Exchange virtual symposium will feature different resource speakers from all over the country to share Filipino holiday traditions and food pairings that are unique to their area:


Chef Sau del Rosario of Culinarya Pampanga, DOT Culture and Arts, City of Manila Tourism Officer Jose Maria Belmonte, Laguna 3rd District Representative Cong. Marisol Aragones Sampelo, Chef Ann Alcantara of Casa San Pablo, and Bicol-based Chef Rica Buenaflor with Ms. Bernadette de los Santos of Bidibidi Enterprise for Luzon;
Chef Mia Gonzaga of Slow Food Negros, Guimaras Cong. Ma. Lucille Ledesma-Nava (special holiday dishes using Guimaras mangoes), Dumaguete-based Chef Edison Monte de Ramos Manuel, and Mayor Richard Gomez (humba cooking demo) and DOT Regional Director Karen Tiopes for Visayas; and
Dakak Resort CEO Svetlana Jaloslos De Leon (Christmas staycation feast), Davao-based Chef Paolo Garcia of Balik Bukid Farm and Kitchen, and DOT Region 13 Director King Arina (feature on Siargao) for Mindanao
The Food Tourism 101 virtual talks continue with timely topics on the culinary tourism industry including "Food tourism packages for the yuletide season" with Philippine Tour Operators Association (PHILTOA) President Cesar Cruz and Enchanted Kingdom Chief Operations Officer Ms. Cynthia Mamon on December 17, and 'Christmas Staycations and Foodie ADVENTures in the Philippines' to be presented by Hotel Sales and Marketing Association (HSMA) President Christine Ann Ibarreta and Hotel and Restaurant Association of the Philippines (HRAP) Board of Directors Member Chef Robby Goco on December 18.
In the virtual session on December 19, Guide to the Philippines General Manager Mr. Rabbi Vincent Ang will share his tips on how to promote packages and experiences such as food tourism online, while LTB Philippines Chefs Association- Davao Chapter President Chef Salome San Jose shall focus on "The Christmas Spirit Through Holiday Food & Experiences" during the Food Tourism 101 and KAIN NA! wrap-up on December 20.
The Kain Na Trading Post, the project's online store will continue to be online at
www.kainnastore.com
featuring various iconic food items and local delicacies.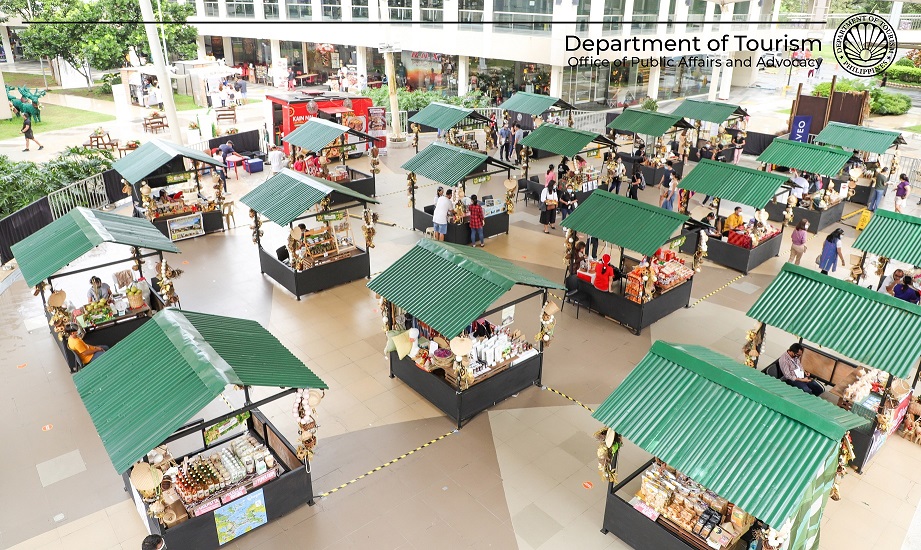 To usher in the holiday season through proudly-local culinary delights, the Department of Tourism (DOT) on Friday (December 18) launched the Christmas Food Market at the Solenad 3 Activity Park in Sta. Rosa, Laguna, featuring a wide selection of food products from a total of 20 exhibitors coming from across Luzon, Visayas, and Mindanao.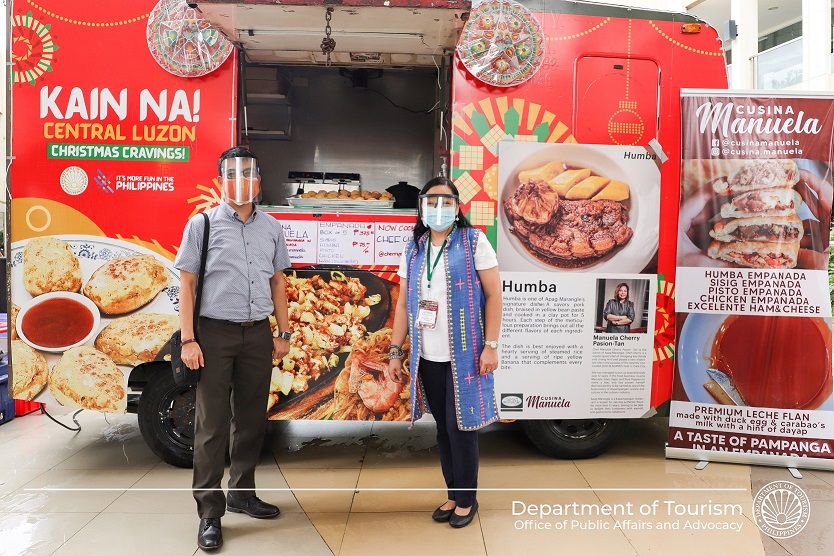 DOT OIC- Undersecretary for Tourism Regulation Coordination & Resource Generation Roberto Alabado III and Assistant Secretary for Product and Market Development Verna C. Buensuceso at the KAIN NA! DOT Region 3 food truck, where mouthwatering creations of Central Luzon chefs take center stage. On the opening day of the Christmas Food Market (December 18), the food truck served humba empanada made by Chef Manuela Cherry-Pasion Tan.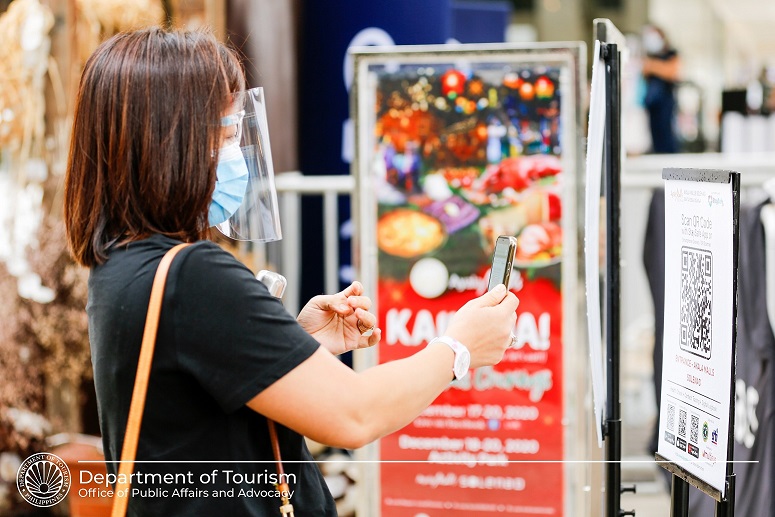 Health and safety protocols have been put in place in coordination with Ayala Malls Solenad and the local government of Sta. Rosa, Laguna for the Christmas Food Market happening from December 18 (Friday) to December 20 (Sunday) at the Solenad 3 Activity Park. Shoppers are required to undergo mandatory temperature checks at the entrance, sanitize their hands, and accomplish an online Health Declaration Form using the StaySafe App or any QR code scanner for contact tracing purposes.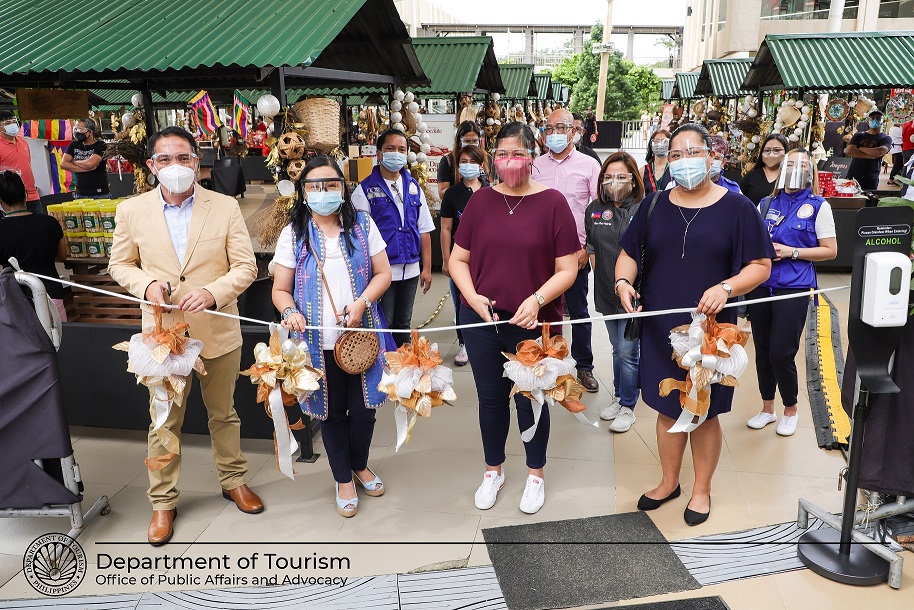 From left to right: DOT 4A Regional Director Michael Palispis, DOT Assistant Secretary for Product and Market Development Verna C. Buensuceso, Ayala Malls Solenad General Manager Marissa Ramos, and Ayala Malls Solenad Marketing Manager Sheenalene Portugal during the Ribbon Cutting Ceremony of the KAIN NA! Christmas Food Market. Situated at the Activity Park of Solenad 3, the on-site food exhibition will be open to visitors during mall hours from December 18 (Friday) until December 20 (Sunday).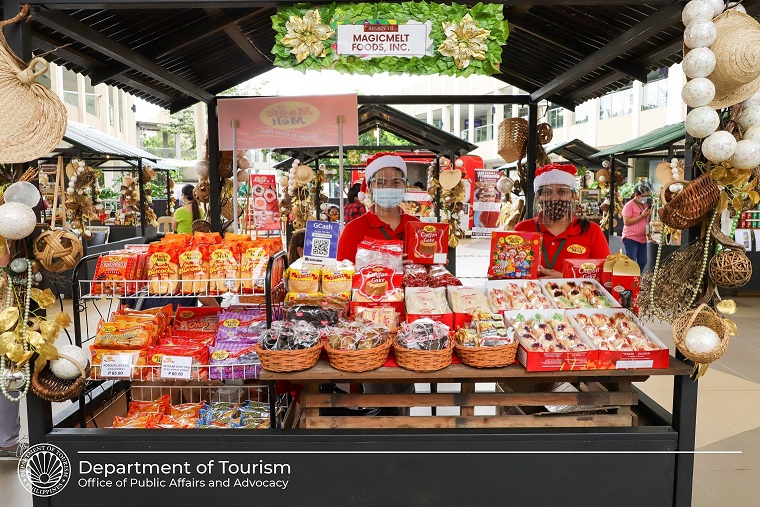 The Christmas Food Market gathers 20 food exhibitors from 8 regions to showcase their products, making it a perfect place for foodies who need to do some last-minute gift shopping before the holidays. The exhibition is a component of KAIN NA! Christmas Cravings, the fourth and last leg in 2020 of the DOT-organized Food and Travel Festival.
###