The Department of Tourism (DOT) in partnership with the Slow Food Negros Community, Negros Museum, and Provincial Government of Negros Occidental, on Tuesday (January 19), launched an 82-page cookbook entitled "Negrense Heritage Cooking".

Tourism Secretary Bernadette Romulo-Puyat personally attended the launch held at the historic Casa Gamboa in Silay City, and said that the project greatly contributes to the DOT's continued promotion of culinary tourism despite the on-going pandemic.

"My heartfelt congratulations to everyone who worked on this wonderful cookbook. Negros Heritage Cooking is a testament to the culinary traditions of the region, filled with recipes that tell the stories of ingenuity, creativity and passion. This book is a legacy that will be passed down to generations who will remember forgotten ingredients and keep these heirloom dishes alive," Secretary Puyat said.

The tourism chief also recognized the active participation of the Slow Food Negros Community in DOT's events—more recently—the KAIN NA! Food and Travel Festival and participation in the Terra Madre Salone del Gusto exhibition in 2020.

Through its Region 6 Office, the DOT provided financial support to the following components of the KAIN NA! 2020 edition:
a. KAIN NA! Inuman at Pulutan: Slow Drinks and Pairings by Agimat Foraging Bar and Kitchen;
b. Six Slow Food Negros Community Food Talks such as food from the forest, Philippine coffee, food biodiversity, slow cheese, urban gardening and Philippine native trees;
c. Film production featuring six of Negros Island's Ark of Taste which are batuan, kadios, darag chicken, adlai, tinigib corn, criollo cacao; and
d. Film production of six survival recipes in times of pandemic featuring adobong takway, lupoy with monggo, squash tendrils with guinamos, alupe, puso sang saging with gata and abalong
"These initiatives are in full support of the DOT's Philippine Food Tourism Roadmap and Strategic Plan for 2021 and our efforts to position the Philippines as a center of food and gastronomy. We look forward to the day the province opens up again, so visitors from around the country can also experience what eating and living is like 'sa banwa sang dulce',"
the tourism chief added.
At the cookbook launch with the tourism chief were Negros Occidental Governor Eugenio Jose V. Lacson, Negros Occidental Board Member Ryan Gamboa, Bacolod City Mayor Evelio 'Bing' Leonardia, Silay City Mayor Mark Golez, Negros Cultural Foundation President Mrs. Marilyn Gamboa, and Slow Food Negros President Reena Gamboa-Peña, Mr. Ramon Uy, Jr. and members.
Local chefs Gabriel Francisco Melocoton, Joeri Arro, Mia Lizares Gonzaga, and Shuni Grace Palma Osano were also invited to prepare and share stories behind some of the delectable Negrense dishes featured in the cookbook, including: Tangigue Kinilaw with Smoked Gata, Labuyo Oil, and Passionfruit; Linutik Nga Kalabasa with Balsamic Soy, Stir Fried Alugbati and Pechay and Kalkag; cookbook recipe of Adobo Sang Tumandok; Lumpia with Ubod; Linagpang Soup; Tres Leches; and Sab-a na Saging.
"With the support of the DOT and the province of Negros Occidental, through Governor Lacson, the Slow Food community of Negros was able to vigorously participate virtually in Slow Food International's Terra Madre Salonne del Gusto and in the KAIN NA event of the DOT,"
Gamboa-Peña said.
In 2019, the DOT invited Fil-Am Chefs Tom Cunanan, Charles Olalia, and Grant "Lanai" Tabura to Iloilo and Bacolod City, where they were accompanied by Chef Margarita "Gaita" Fores in visiting tourist sites and sampling culinary delights as part of the Chefs' Food Trip to the Philippines project. A DOT x WOFEX University symposium at the Negros Residences, attended by 120 food stakeholders and enthusiasts, capped off the chefs' visit to Bacolod.
###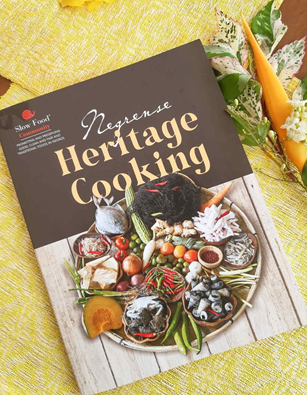 Negrense Heritage Cooking, launched by the Slow Food Community Negros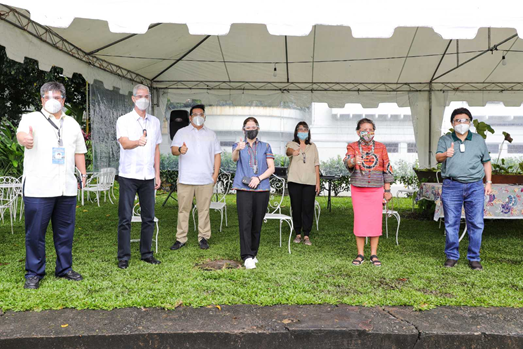 Negrense Heritage Cooking gets a thumbs up! L-R) Silay City Mark Golez, Negros Occidental Governor Eugenio Jose Lacson, Slow Food Negros Ramon Uy, Jr., Department of Tourism Secretary Bernadette Romulo-Puyat, Slow Food Negros President Reena Gamboa-Peña, Negros Cultural Foundation President Marilyn Gamboa, and Bacolod City Mayor Evelio Leonardia, Jr.