MANILA, PHILIPPINES - The Department of Tourism (DOT), in close collaboration with Austria-based research and development organization, Center for Appropriate Technology, identified twenty-seven (27) hotels and resorts as awardees for this year's ANAHAW Philippine Sustainable Tourism Certification.
ANAHAW - the Philippine Sustainable Tourism Certification is developed by the Department of Tourism and GRaT Center for Appropriate Technology through the Zero Carbon Resorts (ZCR) Project funded by the European Union under the Switch Asia Program. ZCR aims to reduce the carbon emission of hotels & resorts following the 3R principles - Reduce, Replace and Redesign. This project was started by the DOT's Office of Tourism Standards and Regulation in 2011 with a series of trainings and seminars on green technologies and focus group discussions with industry stakeholders.
Tourism Chief Bernadette Romulo-Puyat recently challenged industry stakeholders to practice sustainable tourism and demanded for long-term adherence to responsible production and consumption of resources.
"In the DOT, we see the need to inspire, collaborate, educate and habitualize our efforts on this advocacy, no matter how daunting. By inspiring, we engage consumers to embrace the role as responsible tourists. By collaborating, we enjoin experts, partners and volunteers to advance our advocacy. By educating, we help people become informed about our sustainable tourism and by habitualizing, we create doable ways for consumers to get into the habit of practicing sustainable tourism," said DOT Undersecretary for Tourism Regulation, Coordination and Resource Generation Arturo Boncato, Jr. as he represented Puyat in the opening ceremonies.
Undersecretary Boncato likewise stressed the importance of focusing on the best interests of the environment, tourists, industry stakeholders, and host communities, and also the possible environmental, social, and economic impacts, in generating projects directed towards genuine sustainable tourism, which involves collective efforts.
Meanwhile, Enrico Strampelli, head of the Development Cooperation Delegation of the European Union to the Philippines emphasized the role of the ANAHAW in improving overall efficiency of tourism establishments such that not only does the certification ignite profit increase, it also directs the Philippine tourism industry into a more sustainable future.
Hotels and resorts are equipped with best practices and techniques for sustainable development and ecotourism that will largely contribute to the country's green economy and will lead to a highly competitive, environmentally sound and socially responsible Philippines - as is the mandate of the DOT for the National Tourism Development Plan 2016-2022.
Advocating "Innovation, Environment, and Value", the ANAHAW Certification also equips accommodation establishments with the capacity to boost their brand image, gain competitive advantage, and reduce operational costs and boost revenues
Official accreditation from the DOT is mandatory before hotels and resorts could apply for the ANAHAW certification, which is categorized into five levels: Level 1 corresponds to 50 to 59% satisfaction of the applicable criteria and indicators, with savings reaching up to 29%; Level 2 scores between 60-69%, with savings up to 35%; and Level 3 scores between 70-79%, with savings up to 40%.
Meanwhile, Levels 4 and 5 score between 80-89% and 90-100%, respectively, with savings reaching up to 46-56%.
The certification's percentage breakdown considers environmental policy administration and management, electricity and energy services, building infrastructure and surrounding, water, waste, wastewater treatment and management, chemicals and detergent, fuel, environmental protection and cultural preservation.
Technical assessments on the ANAHAW applicants and awardees were done by ANAHAW experts, namely: Engr. Anna Liza Lao (Cavite), Engr. Ma. Theresa Banta (Metro Manila), Engr. Von Saulo Infante (Metro Manila), Engr. Emelita Catalo-Guerzon (Davao), Engr. May Alelin Gerona Pagal (Metro Manila).
Other ANAHAW experts recognized for their significant contribution to the technical assessments include Engr. Diosa Marie Aguila (Batangas), Marissa Victoria Claustro (DOT), Engr. Conrado Ostia, Jr. (Metro Manila), Engr. Moses Mabute, Jr. (Metro Manila) and Arch. Ma. Oliva Alvero.
The list of ANAHAW awardees, as well as photos of the event can be found at the DOT Facebook page: https://www.facebook. com/DepartmentOfTourism/.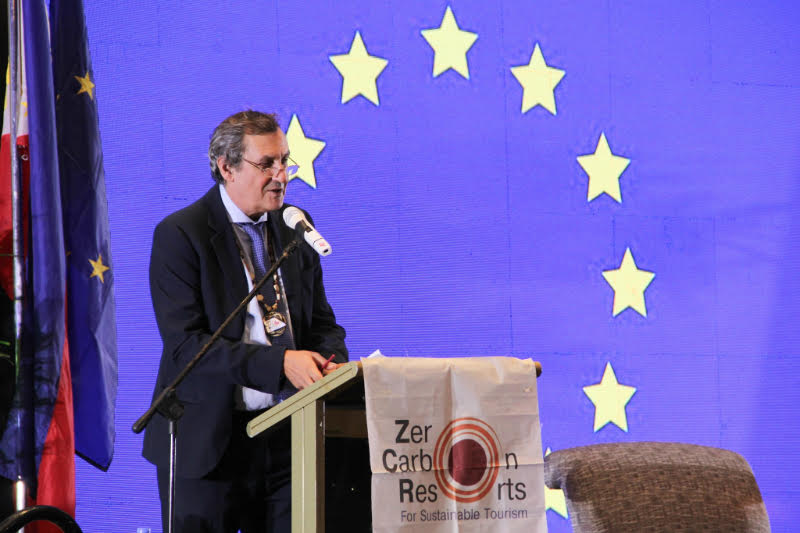 Enrico Strampelli, Head of Development Cooperation Delegation of the European Union to the Philippines delivers welcome remarks during the ZCR for Sustainable Tourism Conference and ANAHAW Awarding Ceremony: "A Journey towards Sustainable Tourism" at the AG New World Manila Hotel, August 31.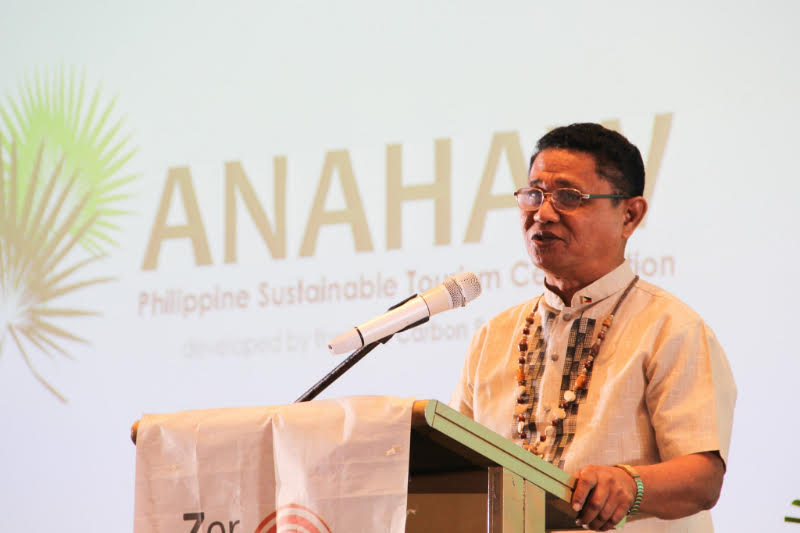 DOT Director for Tourism Standards and Regulation Danilo B. Intong recounts the milestones achieved by GrAT's Zero Carbon Resorts for Sustainable Tourism project and highlights the economic reforms of tourism establishments after the adaptation of sustainable practices.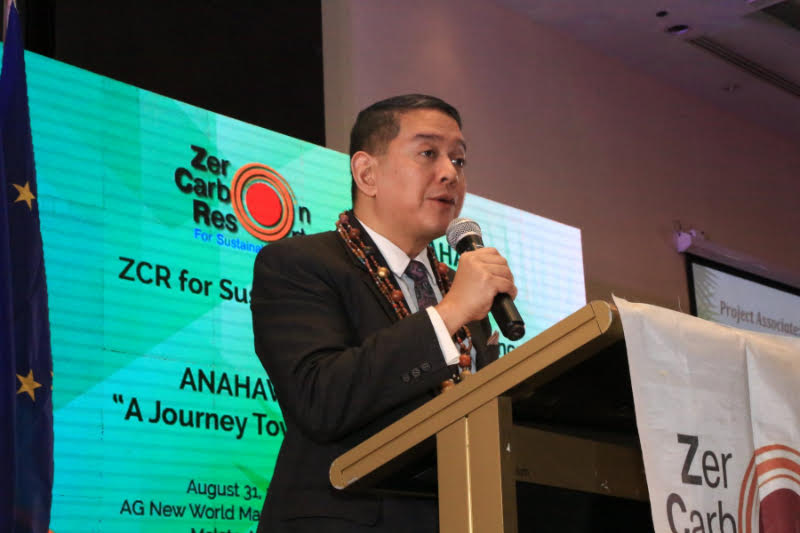 Undersecretary Arturo Boncato Jr. shares the Department of Tourism's efforts in creating a culture of sustainable tourism in the country, and developing an ecosystem of responsible tourists and destinations in partnership with the Center for Appropriate Technology, through the Zero Carbon Resorts and the ANAHAW Awards.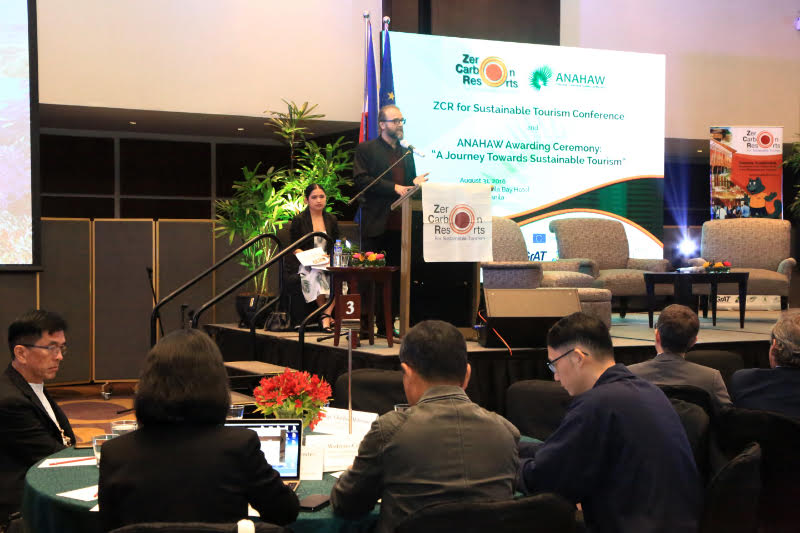 Dr. Robert Wimmer, Managing Director of GrAT - Center for Appropriate Technology, discusses the achievements of Zero Carbon Resorts(ZCR) in the Philippines and Thailand.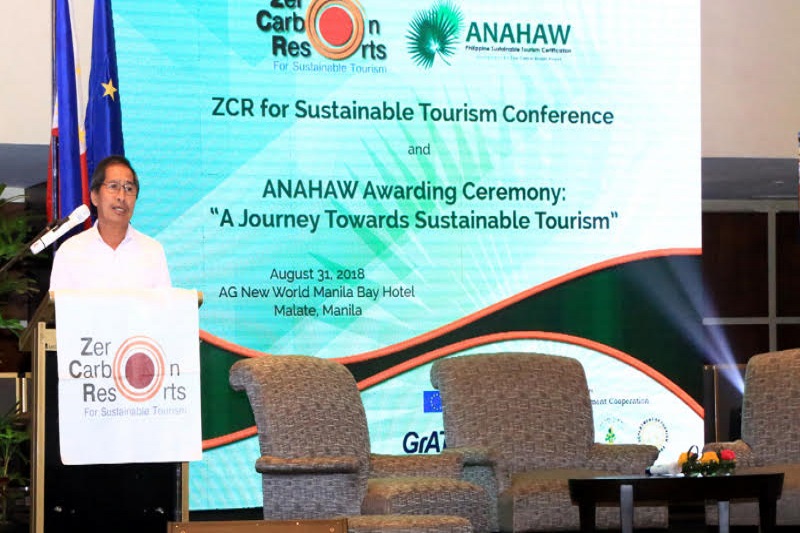 Nelson Devanadera, Executive Director of Palawan Council for Sustainable Development, tackles policy integration in the ZCR Policy White Book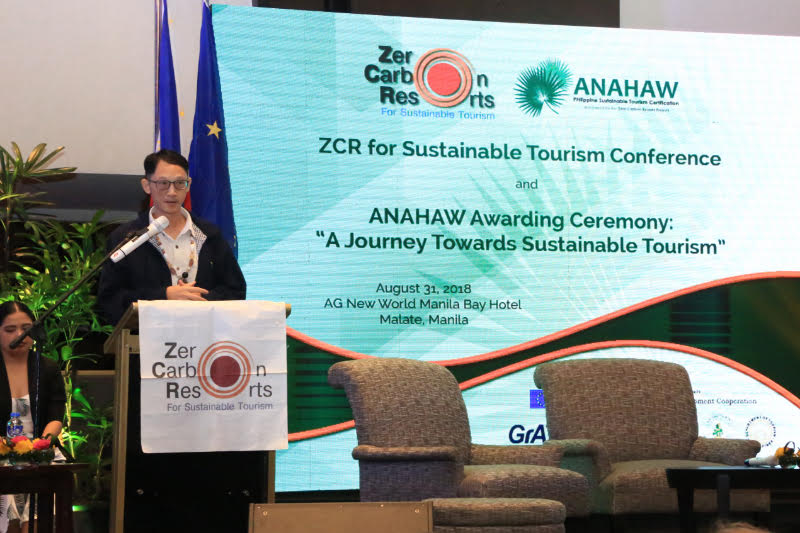 Suphakit Nuntavorakarn, Policy Manager of Healthy Public Policy Foundation discusses public policy implementation for sustainable tourism in Thailand.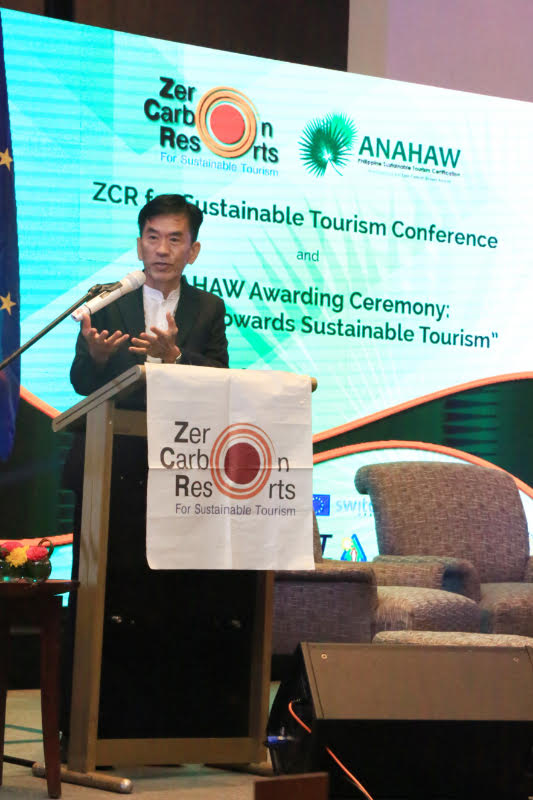 Dr. Tanawan Sintunawa, Secretary General of the Green Leaf Foundation presents the successes of ZCR in Thailand.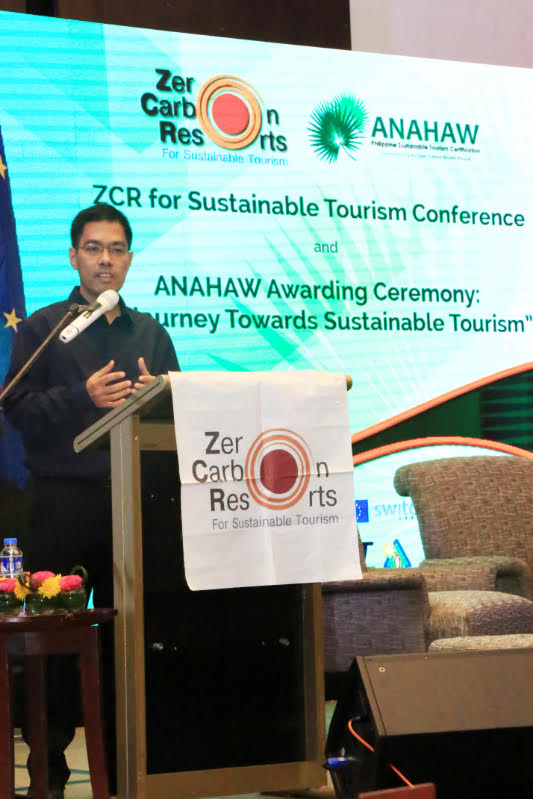 Engr. Charlton Materum, Technical Expert from GrAT cites the provisions of the ANAHAW Philippine Sustainable Tourism Certification.